Flirting is the basis of relations between a man and a woman. It all starts with flirting. Even the relationship of the maestro (photographer) and the muse (model) through the prism of the camera can definitely be called flirting!
Karina Stern is a real coquette 🙂 True, she flirts very carefully, not defiantly, barely noticeable, with a naive and innocent look of a sweet young girl.
Watching her during the shoot, I think… no, I'm sure that at this moment she imagines a young guy that she likes and she seduces him. Therefore, her photosets are very erotic.
She knows she doesn't have to pretend or play a made-up role on camera. To naturally turn out in the photo, she is enough for her to be herself — a girl from a neighboring area with a cute mischievous smile.
On this day, we shot a lot of photosets, as usual … If we already got out on a photo hunt, then for the whole day. Where have we been? They were near the Musical Drama Theater. They were in garages. On the pedestrian bridge overlooking the shipyard there were also (the photo set is already on the site, click on the link). Karina even rode a scooter at one of the buildings of the famous Nikolaev university.
When possible, for the effect of perception, we try to shoot with two cameras and two video cameras. This, of course, greatly complicates the installation work, but the result is worth it!
Some photos and videos, filmed at this location (old house of culture on Temvod), have already been published in the portfolio:
P.S. Pablo Incognito loves ruins, abandoned buildings and various dilapidated buildings and structures. For some reason, he has a special love for the building of this House of Culture. At this location, he took a lot of photosets. And in general, what just didn't happen at this location 🙂 🙂
---
P.S.S. Also watch the video backstage "Flirt and ruins. Video" (4K UHD – video).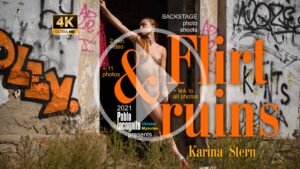 For Pablo Incognito, this is the first experience of editing video from two cameras. It turned out to be a very interesting and dynamic erotic movie. Too bad it's short 🙂
Teхt — Iren Adler
---