Black and white nude photo in the portfolio of Pablo Incognito are rare. Monochrome photos make up no more than 10% of the entire collection of the maestro. And all because Pablo loves color! To love color is to love life, with all its manifestations…
Pablo always weighs his decision carefully when he decides to publish a photoshoot in black and white. But not in this case! Here he made his decision in a second. And all because the midday sun dissolved natural colors, and the black and white image of the muse definitely dominated. And Pablo's passion for super-contrast played a major role in the processing of photos.
Karina is a young, active, inquisitive girl. She left to seek her fortune in the capital. We morally supported and blessed her 🙂 But when she came to her hometown, we always arranged photo walks. She even once admitted that she comes home only for the sake of photo shoots. She needs to be photographed! It raises her self–esteem and is very entertaining.
On this day, we shot several scenes: in the garage, with a scooter, with books, in the park, on the river bank… In addition to photos, there are also backstages. And even backstage after backstage is like spying on a spy.
I usually shoot backstage after backstage. I like to watch how everyone is passionate about the process: the muse poses beautifully and sensually, the maestro takes pictures with enthusiasm, the backstage specialist shoots a video, and I shoot everyone at once — all the most interesting and piquant moments 🙂
A photo from this backstage even became an illustration of the article "What is the difference between a nude photographer and a photographer shooting in the Nude genre?" (click the link, in addition to the photo in the article there is something to read and think about 🙂 and do not forget to comment — this is very important for us! ).
Karina came up with this image herself. She brought the outfit from the capital. In fact, this image describes her mood that day better than words. In a young shy girl, dressed in a white top and a black short skirt, gaiters and shoes on an incredibly high platform, a young woman woke up, capable of shocking in broad daylight almost in the center of the city!
Having chosen: the location — the ship and shipbuilding cranes in the background, so that the picture is spectacular and memorable, the shooting angle — from below, so that the legs look even longer, the poses — dynamic and a little comical, so that the naturalness and cuteness of the model goes off scale, we caught the moment — while there is no one around, so as not to embarrass passers–by — this is our rule, we started shooting…
Full nudity, traditionally present in the photosets of Pablo Incognito, unfortunately, did not happen, after 5 minutes passers–by appeared. But here's a fluttering outrageous with elements of striptease performed by a young charmer turned out to be 5+!
What do you think? I propose to evaluate Karina's outrageousness on a 10-point scale. Write your ratings in the comments!
---
P.S.S. Also watch the video backstage "Fluttering outrageous. Video" (4K UHD – video).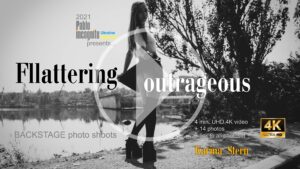 For Pablo Incognito, this is the first experience of editing video from two cameras. It turned out to be a very interesting and dynamic erotic movie. Too bad it's short 🙂
Teхt — Iren Adler
---