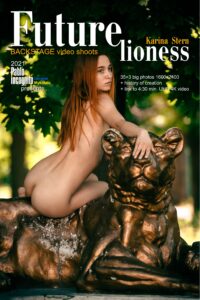 A naked red-haired young girl poses with a bronze lioness at noon in the park of the Chkalov sanatorium in Odessa.
What if you saw this picture while walking to the beach? What would be your reaction?
I will say right away where the statue of a lioness stands, a deserted place, people do not go there, as, for example, along the central alley of a sanatorium. Occasionally someone may appear, but in such a case we have a cape ready for the muse to quickly cover up.
While we were filming this story, there were no people. But then, almost out of nowhere, a man appeared on the path. Noticing him, Karina hid behind a lioness (there is this photo in the photoset, you will recognize it 🙂 ).
Usually Odessans, when they witness such delicate photo shoots, do not react in any way to what is happening. They are generally very loyal to such events. But this man was shameless! While he was walking by, at first he just stared at the model, and then, coming from behind, he began to shoot on his smartphone. He did not respond to our remarks. Then Pablo shouted loudly and menacingly to him to stop filming, he would not be well, and Pablo went to him. Apparently Pablo was so convincing that the man decided not to seek adventure and quickly retreated.
We continued with the photo session. Two photographers, Spinnaker Sale and Returned, shot over 600 frames in 5 minutes. My task was to shoot an interesting video backstage and direct a photo session. Pablo watched the process and guarded our peace of mind 🙂
I love working with Karina. She is not capricious, charismatic, plastic. She understands the idea from the first words. When we returned from a nudist beach, I really wanted us to shoot a story, the heroines of which are two graces — Karina and a lioness. In the flexibility of Karina, I saw the grace of this majestic predator.
The shooting process was very interesting. What I saw constantly wanted to comment. I showered Karina with compliments.
And when I asked her to portray a sizzling look, she looked into the camera lens with the look of a femme fatale. And her regal pose showed us that we have a future lioness in front of us!
Text — Iren Adler
---
P.S.S. Also watch the video backstage «Future lioness. Video.» (4K UHD – video).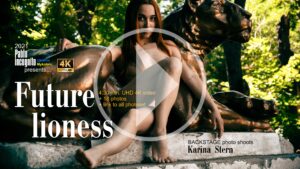 ---