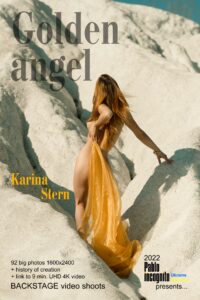 A woman is both an angel and a demon rolled into one. And who she will be today depends largely on her man…

There are many ways to please a woman: give flowers, make a surprise, give a compliment, or take a good picture…
These white rocks are a famous location in the south of Ukraine (Nikolaev region, Aktovsky canyon). Any photo shoot against the background of these rocks resembles an unearthly landscape. And if this is a photo shoot in the Nude genre, then the result will be simply fantastic! Isn't it true?!
We tried to get to this location three times when we were in Aktovo. Every time we saw them, it seemed that they were very close, but we had to make our way to them through rocks, cliffs, a ford and a river. And still, we never reached the cherished location.
As it turned out, in order to still get to the white cliffs, you need to know where to turn off the main road leading to this landscape reserve. Therefore, for this trip, we took a guide with us, and did not regret it, because on that photo day we visited three amazing places:
white rocks
swan lake
azure lake Malta
Our dressing room has outfits, shoes and accessories for all of Pablo's muses. I bought this fantastically beautiful bodysuit a couple of years ago, in the hope that someday it will certainly come in handy. We can say that all the stars converged on this location.
Karina Stern, a sweet red–haired young girl in an elegant bodysuit embroidered with bright flowers, skillfully poses with a cut of golden organza, which creates bizarre shapes in the air — from angel wings to a golden cloud.
A gold bracelet with an oriental ornament on her wrist and sandals on a high platform with gold clasps on the ankles complete the image of a young golden angel descended from heaven, right along the crests of white rocks.
The first part of the photoshoot, where Karina in a bodysuit is a real modern glamour, you can't see anything, but it's very romantic — the perfect photo for Instagram. The second part, already without a bodysuit, in the "Eve's outfit" — the classic NUDE by Pablo Incognito — everything is visible, but very aesthetically pleasing and romantic. This is what an ideal earthly woman looks like in his eyes and in the lens of his camera — a heavenly angel sent to a man so that he admires, loves and idolizes her until the end of time!
P.S. To demonstrate their sexuality and at the same time look like an angel, not a sinner, the girls succeed only in the photo sessions of Pablo Incognito. And all because they do not pretend to be someone, they just reveal themselves…
Teхt — Iren Adler
---
P.S.S. Also watch the video backstage «Golden angel. Video.» (4K UHD – video).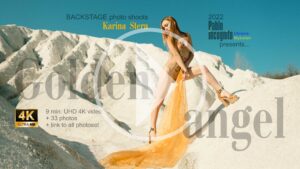 For Pablo Incognito, this is another experience in editing videos from two cameras. A romantic and dynamic erotic film was released 🙂
---