Imagine a situation, you are driving in a car and a beautiful young red-haired girl is riding a bicycle on the road in front of you.

What part of her body will you notice first? It will definitely not be her beautiful eyes 🙂
Usually cyclists are dressed in comfortable tight–fitting clothes: leggings, top, cap, sneakers. Sometimes they are in shorts. Imagine that you are lucky to see a beauty on a bike in leggings and without shorts 🙂 You can't avoid an accident!
If you fantasize, then do not deny yourself anything! Or you can look into the portfolio of nude photographer Pablo Incognito and find a photo or video where such bold fantasies have acquired a visual realization. Check us out more often, we will definitely surprise you!
We filmed this photoset on the banks of the Southern Bug River in Nikolaev in 2020 in the midst of a pandemic. The mask on the face of the muse is an essential accessory of that time. And also, thanks to her, you can be photographed incognito (beautiful stranger), if you are shy…
But Karina is not one of the shy young ladies. She is a rebel in life. During the photo shoot, he takes off his mask, inhales the fresh warm autumn air and grimaces at the camera with pleasure.
P.S. This photo shoot is a prime example of a bottomless photo shoot. The photo shows a half-naked girl. Moreover, the lower, most piquant, part of her body is exposed. And the presence of a bicycle in the frame next to her plump "buns" 🙂 excites fantasies. As I already wrote, fantasize, admire and be inspired! Life is so interesting, especially if you suddenly meet such a brave cyclist…
Text — Iren Adler
P.S.S. And this is how we drove to the location on the river bank overlooking the lighthouse. I'm with Pablo in the car. Karina is behind us on a bike 🙂 And in order not to embarrass oncoming and passing drivers, she was wearing leggings.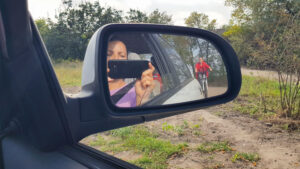 That's what the real muses of Pablo Incognito are capable of for a spectacular photo session!