Wet fabric, fitting elastic girlish breasts — an erotic fantasy of any healthy modern man.
It is a special pleasure to watch a young red–haired mermaid bathe in the sea. She is wearing a blouse made of the thinnest white cambric. She is so natural and feminine that you want to look at her without taking your eyes off her!
We filmed this video backstage on a nudist beach in Odessa. This is one of the most democratic and safe places on the entire Odessa coast. And the atmosphere here is always friendly!
Karina quickly and imperceptibly joined our "gang" 🙂 and we often went in the summer, in a small company, to wild beaches, and of course, filmed more and more new photo stories. By clicking on the tag "Karina Stern", you can see the portfolio of this muse Pablo Incognito and admire the natural grace of the girl. Click and enjoy!
Text — Iren Adler
P.S. My first experience of sunbathing naked was on this beach back in 1994 🙂 Since then I have always had a perfect tan. And Pablo also asks, recommends, demands that his muses do not spoil their beautiful figures with swimsuit marks.
---
P.S.S. See also the photoset "Transparent bathing" (26 large photos):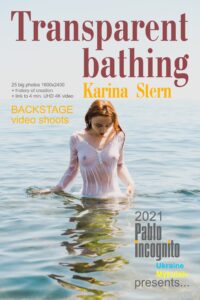 ---