I wait to visit:
Sobornaya st., 12-b, office 214
Nikolaev, Ukraine


Call me:
+38 (063) 163-22-85
+38 (093) 388-77-22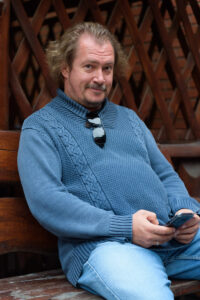 Pablo Incognito is a creative pseudonym for a nude photographer. My name is Pavel Demensky. I was born in 1972 in Nikolaev, where I still live to this day. I have two children.
The main occupations over the past 25 years are advertising, design, printing, social activities, and teaching. I have an art education. My mother is an artist-architect. I studied at the Institute of Culture. I lead an advertising agency, where I constantly introduce my own small innovations.
I have been doing nude photography for a long time, since 2002. But for the first time I exhibited my work to the public only in 2019, in Nikolaev. It was the "Provocation" exhibition (one exhibition day at the Ukraine Business Center and one evening at the Rodina cinema, before the night screening of a collection of adult films). Reviews of the event can be found on the link in the "Discussion" tab.
Most of all I took pictures of my wife, Irina (Iren Adler). There are other models (but I call them muses). Constant experiments lead me to a variety of places – an abandoned factory, an exhibition hall, a sex shop … I really like to photograph not in the interior. I avoid passers-by on the street, but sometimes they accidentally fall into the frame 🙂
I hope you enjoy my creative ventures!