Every woman has a story after which she changed… I don't know who these words belong to (Google knows everything 😉 ), but they are definitely about me…
How do I feel about nude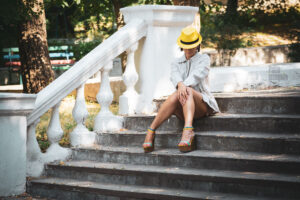 I had a moment when I changed, or rather, I changed my attitude to a lot of things, and especially to photo sessions in the "Nude" genre.
I have been filming in this genre since 2002, but I changed my attitude only in June 2019. It took me 17 years to realize / identify / understand myself!
So, my story, because of which I changed, happened when I was 45 years old. Just like the saying – "45 – a woman-berry again!".
Pablo organized his first public / shocking / large-scale exhibition "Provocation" in the "Nude" genre, and I agreed that he post my photos "with a face"…
Until this age, I was very worried about my image. I was always worried about what they think of me, how people perceive me, whether my hobby / creativity / occupation will affect my small and beloved advertising business… Most women torment themselves / torment / torture themselves with such questions, and the more beautiful they are, the more they are more demanding of themselves. So did I.
And then I realized — "Image is nothing!" Here you can end with an advertising phrase — "Thirst is everything!", And I will say "Life is everything! And only she matters!"
And this life is mine, and it's up to me to decide what it will be. I will live it as I like / want / love, or I will look around / listen / pay attention to someone else's opinion.
Shame and Nude
I sometimes feel / catch / notice perplexed looks / questions / judgments — how can she be photographed nude / naked / without clothes?
Some people even remind / voice / accentuate my age — adult / mature / old! How am I not ashamed? What will the mothers of my nine-year-old daughter's classmates think of me? So there you go! Returning to the title of the article, I declare — I am not ashamed! Therefore, I take pictures in the genres "Nude", "Glamor", "Pin–up". And I have a conscience!
And Pablo also has a conscience (you should have seen how caring and attentive to his muses!). And we respect and abide by the laws, therefore, for example, on our site there is an age limit of 21+. You need not just press the button "I am already 21 years old", but enter the exact date of your birth! And this already makes you wonder if you are ready to contemplate the masterpieces of erotic art 🙂 .
Nude gets rid of templates
We just got rid of the templates that nudity / eroticism / sexuality is something forbidden / indecent / condemned.
I (and other wonderful Pablo muses too) learned to show our sexuality in photographs neatly / delicately / sensually! And Pablo skillfully notices / captures / photographs it. And then he selects / sets / publishes short photo stories on his author's website.
Sometimes we even write texts for photosets or blog articles about what we felt / saw / experienced during a nude photo session. We share our thoughts / experiences / fantasies and receive feedback from our viewers in the comments under the photosets (thank you for that!).
My body is the most beautiful outfit! These are my words, Iren Adler. I hope that over time Google will also know these words 🙂
Any woman can look beautiful in smart clothes, but nude / undressed / naked at least partially is the freedom / choice / decision of strong / active / confident women in their uniqueness. I really want to believe that I am one of them!
Female sexuality in nude
One of the virtues of a modern woman is sexuality. The most courageous women actively use their sexuality / eroticism / charisma, others are only on the way to knowing themselves. Someone realized this at the beginning of their life, others needed their whole life. But the most mature / balanced / deeply felt decision, in my opinion, comes to maturity, somewhere in the 30-40 years old. As the saying goes "still young and beautiful, but already smart"…
Our environment with Pablo is people who easily sunbathe naked on naturist / nudist / wild beaches, freely communicate on intimate / personal / private topics, not only offer / advise / suggest daring / exotic / spectacular ideas for Pablo and me for new photo sessions, but they even help us find unique / interesting / non–standard locations and even participate in them, "incognito" of course.
Pablo has such a large / huge / gigantic amount of ideas / images / locations! We just physically do not have time to implement them, but we are trying 🙂 .
What is the age of the nude model?
About age… I'm not ashamed of it. I even love it. And I do not hide the year of my birth (it is indicated in every portfolio of any muse). I am even proud that young mothers take me for the same age, it flatters me. I feel that I am now in the period of my second youth — I am attractive / charming / unique 🙂 .
I actively use my appearance / artistry / gracefulness, taking pictures in the genres: Nude / Glamor / Pin-up, dancing social dances: Kizomba / Bachata / Argentine tango, communicating with interesting / funny / extraordinary people. In general, I do / live / love how I feel / want / can!
I do not in any way advertise / do not agitate / do not insist to take an example from me, I just share / tell / show how she can live / be happy / weird 😉 a modern woman, so that her life is bright / interesting / full of pleasing emotions / inspiring / exciting not only her, but also her beloved man / husband / fiance.
Art and nude
From time immemorial, nudity has been of interest to mankind and has been a controversial occupation — from rock paintings to works of art. Painters and sculptors have captured the beauty of the female body in they creations.
Recently I was even painted naked for two hours by ten adult artists — men and women. I posed for them without clothes, of course! Compliments were made to me, I admired / embarrassed / inspired and was inspired myself. This is real life! And this is happening to me here and now!
By creating with Pablo, we create a romantic / enthusiastic / aesthetic mood for our audience, who admires our photo sessions.
These are adults who are already well over 18! Who have already taken place as individuals. Who understand that their life is not only work / image / business, but that it is also emotions — admiration / charm / admiration for us, women / models of a unique / peculiar / unique photographer of a delicate genre Pablo Incognito!
P.S. In life,  I am the most ordinary woman — modest and shy, although you cannot say this, looking at my photos 🙂
Your Iren Adler