Fantasy.
The sea and the sun. Heat. It's good under a canopy. Very good.
When there is nothing to do, you start to rejoice in what is really good. Loud sound of the sea. This noise is constant and so loud. What… you stop noticing him. You just don't hear him, and that's it!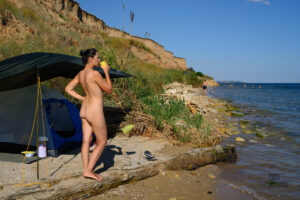 Good under a canopy. Here a girlfriend came from bathing. She's all wet. And salty. And joyful. She has a beautiful body. You can admire it endlessly. Especially when in love. It's so easy at sea.
A lot, a lot of time. Lots of. Even some serious thoughts do not come to mind. Only small nonsense. For example, pester a girlfriend or swim and sunbathe on a distant beach without clothes. No clothes at all. It's so nice. And then fall asleep under a canopy or in a tent. And wake up already in the evening.
Nothing to do in the evening. This is a feature of wild, remote beaches. There's just nothing to do. You, tent, awning, your girlfriend, food, wine, water… And nothing else and no one else. Very good! Highly.
You can chat, dream. At least about how nice it will be to come here again. But it doesn't work that way. It will be different next time. This is another feature of wild beaches — every time everything is new. Quite differently. Different company, different experiences, different weather, food, sea, place. It's good when everything goes well. But this is not always the case.
This time everything is great. And I don't want to change anything. Just nothing. Even this constant wind. Let it blow. Always blowing!
© Pablo Incognito, 2000–2005