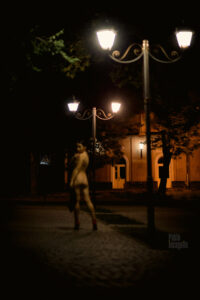 I want you! I need you! I love you! In the middle of the night city. In summer. In the park. On a bench in a half–lit alley. Slowly. Gently. Sincerely. I want you to have no clothes on, just shoes. With a blindfold. And I'm dressed… Well, almost dressed.
I want you to slowly undress while we are looking for a comfortable place to retire… First she took off her top, then her skirt, then her panties … In front of me, throwing her things at me and smiling slyly. Left without clothes, you would hand me a bandage, turn your back on me and gesture for me to blindfold you.
I want you to ask me to sit on a bench, and she herself began to dance. Slowly. Gracefully. Completely naked and in the same shoes. In headphones. With a blindfold. Then she invited me to dance… I would hug and kiss you. Then you sat me down on the bench again, and you yourself sat down in my arms…
I want you to dress gradually and slowly when you leave the park. You just walk completely naked halfway. Then she put on a top. Then panties. And at the end, before leaving the deserted park, a skirt!
Already on the way home, I will look at you and think, I am the happiest man! Images in the city park will pop up in my memory. But I have to concentrate and keep my eyes on the road.
And maybe when we drive up to the house, a few blocks away you will want to seduce me again. And again you walk along the shady side of the street, holding only your panties in your hands…