While publishing the "Strange Behavior" photoset — this not quite usual series of photographs for me, I suddenly thought …

What exactly leads to the fact that a beautiful woman poses for a photographer (or artist) in the nude?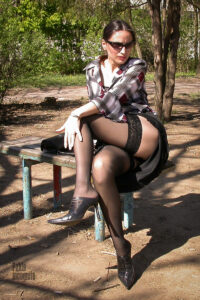 This behavior is unusual in human society. It is even considered strange. So many can say, and they will be absolutely right! People (with the exception of the bathing ritual and during lovemaking) go dressed. And posing dressed. As a rule, anyway. So what influences a woman when she often poses for such, half–naked, or completely nude photos?..
The first thing that personally comes to my mind is the climate. If it's cold, then we dress. And in the summer heat, we try to get closer to the water, where we strip naked (3-5% of the body area covered by a swimsuit, I do not consider clothes – this is a tribute to our habits or complexes 🙂 ). But the wild tribes in Africa, as you know, do not wear clothes at all. Most likely, they were accustomed to bandages and other rags, it was the tourists who were embarrassed by this view… But at the same time there is a paradox of much more northern peoples — German, Finnish saunas, where all adults are soaring naked together, both men and women! They are so accustomed to it for a long time, and no one bothers… So, the climate does not affect habits.
The second is religion. Oh, this phenomenon affects all aspects of life. And it seems to me that religion is the main reason for the widespread notion that nudity is a shame. But! This is not criticized in all religions!
Flirting. I'm talking about a female game in which she attracts a man she likes. I'm talking about ordinary and smart clothes, about dance, about makeup, about the voice… Well, and, of course, about the demonstration of a beautiful body! It can also be shown "slightly more than usual", thereby luring your partner into the game. And a man, of course, wants to see more, and more, and even more… Perhaps, flirting is the main motive for nudity. And a loving woman uses nudity most boldly, because she already loves, what else can she hide? Let her beloved admire, fall in love even more!.. But this is nudity for the beloved. Where is posing for a photo for a public demonstration here?
Theatre. Scene. Mission, its broadcast and recognition, approval, delight! Love can be broadcast too. Through fine arts, cinema, photography! And get universal recognition! And to inspire loving couples to reciprocity, to love…
I would equate women who demonstrate their beauty with actresses. To the actresses of the "Theater of Love"! And they deserve the most thunderous applause, attention and respect, because they dare to show their natural essence to delight (and, sometimes, unfortunately, to criticism 🙁 ) to the public!