It was my first experience of posing for artists. I have been posing naked for nude photographer Pablo Incognito for over 20 years. But in front of the artists, undressed, alas, for the first time…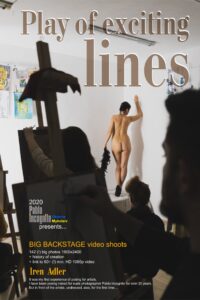 Eight members of the art group "Drink and Draw" gathered on Wednesday evening to paint nudes. I was so excited about the upcoming event that I started preparing in the morning.
Just to come and undress, as models usually do, was not enough for me. I wanted to create a show and participate in it 😉 . And become the prima of this show!
Together with Pablo, we picked up several looks in advance. And it does not matter that each sketch will last only 10 minutes and in this short time the artists will not have time to draw the details. For us, the main thing is to create a mood for them, to evoke emotions in them, and we, as a rule, can do this!
In addition to the images created thanks to accessories, we have prepared a podium and studio lighting. Pablo knows that light, both for photography and painting, plays an important role. The picture that artists will see must be flawless!
Five ten–minute sketches and one forty–minute one were planned for this creative evening. Usually the sitter just changes her position for a new sketch. I changed not only the pose, but also the images.
Here are my images:
Elegant lady
The first image.
A white wide–brimmed hat, white stiletto sandals and a long string of pearl beads. Time has passed… I took a comfortable position, as it seemed to me then. I'm standing… Three minutes of absolute silence… And then one of the artists, in order to somehow defuse the situation, says: "Iren, I don't know if it's cold for you (after all, it's December outside!), But we are all sweating here already!" I took his words as a compliment. I was able to confuse adults with my appearance, who, although infrequently, but certainly not for the first time, see and draw nudes.
Sea beauty
Second image.
A delicate mesh pareo draped over the legs and golden high heels. I was asked to sit down. I sat on the podium. The spotlight blinded me, I closed my eyes. Then, looking at the photos on Pablo's monitor, I realized that my pose was more photographic than artistic. But, apparently, for artists, any pose is ideal, the main thing is that the body "plays" with curve …
Hands up
The third image.
I only wear black shoes. I stand back. As it turned out later, the pose from the back is the most effective angle for drawing. Since I had no accessories in my hands, I decided to interact with the wall — I raised my hands up and leaned on the wall. "A girl in this position could not only be drawn, but also sculpted or carved into a sculpture" — that was the second compliment addressed to me!
Chicago, Moulin Rouge
The fourth image.
Feminine and a bit brutal. Black shoes and boa. Also from the back. The artists really liked my back… Or my butt 🙂 What? I'm not against! I know I have a great back view. To be honest, the fourth 10 minutes began to seem like an eternity for me and I was a little tired… Therefore, we unanimously decided to do the next sketch while sitting.
Heels and slippers
Fifth image.
I sat down hoping to get some rest. And again the pose from the back. In the photo, my heels and slippers lying nearby on the floor in the foreground. They added realism and a little "home" to everything that happens. According to the sketches, it was clear that I had an excellent pose and it turned out very well for everyone. Everyone is happy! I also rested a little and even took a nap (just kidding 🙂
Naked cowboy
Fifth image.
The second hat came in handy — a cowboy hat. It also looked good, just like the white hat in the first sketch. A metal belt made of huge copper rings and platform shoes completed the look, which turned out to be daring, and the pose was impudent. It's time to embarrass the artists again… In principle, it was intended that way. Otherwise, life will be boring, isn't it 🙂
Rose Titanic
Image six.
This was the last sketch, which, according to the plan, was supposed to last as much as 40 minutes. To make it easier for me to pose, they decided to put me on the sofa. To do this, he was immediately dragged from another part of the workshop. The sofa was draped with fabric. I lay down like the heroine of Titanic in the episode when Jack painted Rose completely naked with a huge Heart of the Ocean diamond around her neck. I also had a necklace with a heart around my neck 🙂
Everyone relaxed a little. I lay down and rested. Artists calmly painted, not hurrying anywhere. But 40 minutes flew by very quickly…
What else surprised me? As all participants strictly follow the timing. If the sketch is scheduled for 10 minutes, then it will last exactly 10 minutes and not a minute more. It was the first time I saw such disciplined creative personalities 🙂 I respect you!
We're done. Thanks to all!
The best gift for a model
The final.
Then, in the tradition of their company, all the artists laid out their work on the floor to capture the results of their three hours of work. And I, taking advantage of the right to choose the drawings I liked, took a few sketches as a keepsake.
In addition to the fee (it turns out that models are paid, although I was ready to pose just like that, for an idea), getting 8 drawings of my beloved turned out to be the most generous payment for me at that time!
P.S. See my second experience of posing for artists in the photoset "Four paintings based on Modigliani" (click the link, see the photo, read the description of how it was…)
Thanks for the comments!
---
Muse, costume designer: Iren Adler
Producer, idea, director, location, photo, video, video editing, photo processing: Pablo Incognito