This is my second posing for artists as a model. Rather, artists – women. I was drawn by four beautiful girls, who should also be drawn, but they are shy, but I'm not 🙂 …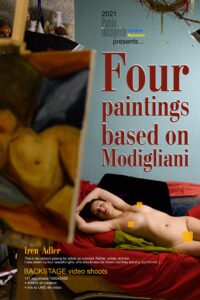 My first experience of nude posing was "Play of exciting lines" (click on the link, there are more than 100 photos and an interesting description of how it was!). And it was very exciting! I experienced vivid emotions, consisting of pleasure and embarrassment, standing in front of the artists naked, defenseless and vulnerable… This is how I felt then…
This time, the owner of the art workshop contacted me and asked if she agreed to pose naked for a small female group of artists. "What a strange question! Of course I agree!!!" — I answered.
Then she clarified the amount of my fee, and this is a special pleasure when your work is appreciated. She also specified that I would like to have a snack, because the event was planned for almost the whole day. We discussed all the details and agreed on a date.
The artists were inspired by the painting "Reclining Nude" by Amadeo Modigliani (1918). As I later found out, this is the most expensive painting by the artist! This beautiful woman was sold at Sotheby's New York auction for a record $170.4 million.
It turns out that I look like a heroine. But it's true! Now my task is to play this role beautifully.
Pablo did not miss the opportunity to photograph this event and even took a "time–lapse" – this is photography with a certain interval between shots, which are programmatically combined into one video. The result is an accelerated video of the entire hours–long process. Pablo also shot several series of backstage videos of the process of drawing and posing.
Pablo and I, of course, prepared carefully. The mood of the model is excellent. Fabric for drapery with me. A couple of studio lamps were also brought to create a beautiful and voluminous picture of light and shadow.
While the artists were setting canvases on easels, choosing angles, mixing paints, I calmly undressed and lay down on a draped sofa. I tried to take the most similar pose of "Reclining Nude". I must admit, the position is very uncomfortable. But art requires sacrifice!
We talked on different topics, laughed, shared our impressions. Sometimes I was asked "uncomfortable" questions, to which I answered honestly — I have nothing to hide, I'm already completely naked in front of them! And I lay and watched how concentrated the artists paint their paintings, on which they painted me!
In the evening, when we finished, according to tradition, the whole creative team took a photo for memory – me (Iren Adler), four artists and four paintings based on Modigliani.
P.S. At the beginning of our creative day, the artists decided to draw sketches to "warm up" – I changed poses, and they made sketches (some of them can also be seen at the end of the photoset). Pablo during this time took a lot of photos from different angles, in which any artist who loves to draw nudes can practice…
P.S. Write comments, thank you very much for it!
---
Muse, costume designer: Iren Adler
Producer, idea, director, location, photo, video, video editing, photo processing: Pablo Incognito