This is the first photoset from the "River Tale" series. Further will be…
We wanted to get to this location for a long time …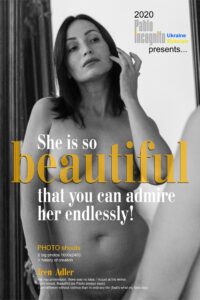 River Tale is an excellent location for wedding and romantic photo sessions. People come here from different cities. The hospitable hosts, especially the hostess Elena, take great care of the visitors. The territory of this open-air museum is ideally maintained at any time of the year. There are many interesting plants and historical objects collected here, and Elena can tell an informative and interesting story about each. We got great aesthetic pleasure from the excursion and even learned the history of the village of Balovnoye, where the "River Tale" is located.
This lovely married couple (the owners of River Tale) is our fan club. We were especially pleased to receive an invitation to make several photosets in the Nude, Glamor and Pin-up genres on the territory of the River Tale. So we phoned and agreed on Monday.
We were there at the appointed hour. As always, I had a whole "wardrobe" of outfits with me (about 12 looks) – dresses, hats, shoes, accessories. Elena invited us to settle down in the white hall where the celebrations take place. In it, we almost accidentally made this first photoset when I was preparing for photography.
I have been taking pictures in the "nude" genre for over 18 years and, believe me, this was the first photoset with a mirror! I was standing near a huge mirror with a carved frame in my "combat outfit", just getting ready to shoot, and Pablo took a few "sighting" shots. And, as is often the case, they made a cute short story. He's a master!
As you understood, there was no idea. I'm just at the mirror. I am naked. Beautiful (as Pablo always says). I am different without clothes than in ordinary life (that's what my fans say).
I admired myself.
Pablo admired me.
Now you can admire this photoset.
Thank you for being our audience!
P.S. Now Pablo is busy setting up a new section of the site – "Boutique". It will be a shop of his author's photo posters in the style of "Modern Ukrainian Social Erotica". There is almost no such thing on the Internet (we searched, but did not find), only we will have this! Very soon we will present you our posters and calendars …
P.S. This is Pablo's second photo recognition of his love for me. First – "I love this woman. Trumpet, how I love! " I'm sure there will be many more … I love you too, my talented Pablo!
P.S. Write comments, thank you very much for it!
---