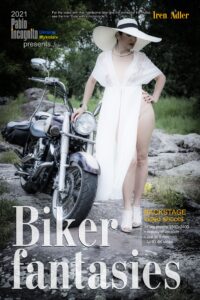 What kind of girls do bikers usually fantasize about?
90% of people will answer that about young, slender, in short tight-fitting T-shirts, under which nipples stick out and in torn denim or leather shorts, so short that the buttocks are visible…
But there are bikers, I would call them "extraordinary", they are interested in completely different women – also "extraordinary"…
I want to say that I am such a "extraordinary" woman.
I am an adult, I know how to present myself, I like to wear tight shirts without a bra, but I do not like shorts. I feel very comfortable in luxury sexy outfits. Sheer, lace, with large slits and necklines, very long or very short — this is my style for photo shoots. Nude photo sessions. And the obligatory attributes: jewelry, hats, masks, and, of course, shoes with high heels.
Therefore, Pablo and I decided to embody our original image of a girl who is in the fantasies of these few "special" bikers. And here's what we got…
P.S. Special thanks to the owner of this iron horse, who kindly provided it for us for a photo shoot. By the way, the owner of the bike is a very charismatic and charming man. He is "extraordinary" — that's my opinion 🙂
Text — Iren Adler
For the video with this handsome bike and the inimitable Iren Adler, see the link "Date with a motorcycle".
---