Of course there is! If you google, the first result is California's famous huge poppy fields in the Antelope Valley. Tourists love to be photographed in them.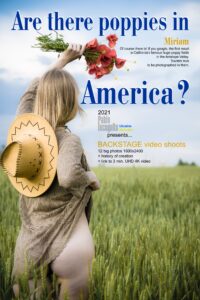 Miriam's first (debut) photo session took place in a poppy field. Then she changed her image and she and Pablo moved to a field with young wheat. Country style turned out to be the best outfit to match her exotic looks and open smile.
She smiled "Hollywood smile", naughty and flirting in front of the camera. And that's what came of it!
P.S. Write comments, thank you very much for it!
---