The holiday of Ivan Kupala is the most mystical folk holiday in Ukraine. The night when young girls make wishes to meet their betrothed, releasing their diadems into the water. The time when beautiful witches and seductive mermaids lure guys into their nets… What will win — love or deceit?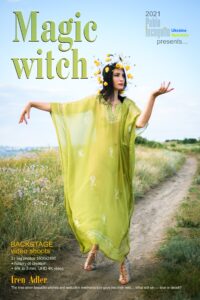 In our area, this holiday is a real folk festival on a grand scale. Everybody sings songs and dances in circles. People get to know each other, communicate. Young boys and girls come hoping to find their destiny. Couples who have already taken place come to confess their feelings to each other again and again…
The most important ceremony of the holiday is jumping over the fire. A mesmerizing sight! Boys and girls, to strengthen their love, jumped together, tightly holding hands.
Among the crowd of onlookers, you can see mavoks, witches and mermaids. They fantastically disguise themselves as ordinary women. They are beautiful, but also dangerous! It costs them nothing to lure you with their crazy dance to the edge of the field closer to the cliff or into the water, and you are in their absolute power…
But do not be afraid of the magic witch! From meeting her, you will only have vivid memories of her crazy and seductive dance. And if she really liked you, then perhaps she will arrange a striptease for you 🙂 …
___________
Pablo and I were looking forward to this holiday. It was planned to be grandiose. Our expectations were met. The highlight of the event was the "Terika" flower gallery. The fairies of flowers (you cannot call the gallery workers otherwise) wove more than two dozen chic author's diadems. Guests could take pictures with any of them. We also took this opportunity and, having picked up an outfit under a diadem, moved a little away from the crowd to shoot a plot about a seductive witch.
There are also plots with other wreaths and are awaiting their publication in Pablo's archive!
Thanks for the comments!
---