A glamorous photo session on a pontoon bridge in windy weather turns into a "hot" show in the "Nude" genre, especially for fishermen!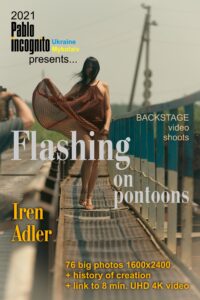 Pablo adores this bridge because the wind, hitting its structure, rises up through the mesh floor of the footpath! And, if a girl walks on it in a light dress, the dress will rise and expose slender legs. And if she doesn't have… panties, then her ass, and, of course, a stylish bikini–haircut…
I walked on this bridge in 2020, and Pablo took photos and videos. It was our romantic date with a camera in hand.
Watch "I love short dresses, especially on the bridge!", Click on the photo and video links… Very exciting story. You will smile, I'm sure 🙂
In 2021, we decided to repeat this feat, but with assistants:
Since the location turned out to be quite lively, cars and bicycles were constantly riding, passers-by were walking, I had to pretend that I was just shooting in a glamorous photo shoot. Until the wind blew, which ripped my chiffon dress much higher than my waist.
Unsuspecting, the two fishermen talked to their friend on a scooter. They did not pay attention to our company at all. But when they realized what was happening, they started watching and even offered their help, of course for free! 🙂
Nudity in public is a very spectacular spectacle. Even short highlights, as in this video. This is unforgettable for both participants and casual spectators.
We do not arrange such shows in a large crowd, we consider it inappropriate. People are not ready for this and may react with indignation. But in a more "chamber" environment, where a couple of passers–by can be casual spectators, and if it is also men — the reaction to what they saw will be amazing!
I am a woman, but if I had witnessed such a photo shoot, I would have been delighted. Of course, I would be embarrassed at first… And I would definitely watch what was happening on the set. And, perhaps, I would participate… 😉
P.S. Perhaps this is the largest photoset on the site at the moment. It contains as many as 76 photographs and these are carefully selected from more than 1100 frames, as they say the most "delicious"!
And the video turned out to be even tastier and spicier. Especially the comments of our casual spectators–ishermen…
---
P.S.S. See also: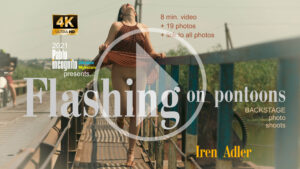 ---