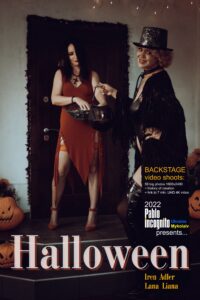 Mystical nude photo session for Halloween in an adult way. Great idea!
Adults love Halloween too. After all, we are children too, only big ones 🙂 We dress up in sinister costumes in the same way, do terrifying makeup and go to visit each other. We grill meat on a barbecue and eat sweets received in exchange for "trick or treat".
Lana is my old friend. I met her in 2000 at a modeling agency. Since then, we have not seen each other for many years. She managed to marry an American man and live in America. From this unique country, she brought some customs and holidays.
When we decided to get together for a photo day (as Pablo calls the days when filming goes "non-stop" from early morning until late at night), she announced that she had taken Halloween decor from the attic. I answered her: "It will be as the witch says!" 🙂 So we had no other options — a couple photo session in incredibly scary and very erotic outfits should definitely take place!
We allowed our imagination in the selection of costumes and make-up. They acted according to the principle "the more terrible, the better" and "combine the incongruous". Our stylist Koolya successfully helped us with this. He also filmed backstage and poured out a stream of exquisite compliments on us.
I really like red. Fitted red dress with a torn hem, batwing headband and smokey eye makeup. The image was complemented by stockings in a large mesh. In this image, I wanted to move so smoothly and viscous, stretching the pleasure, like nougat. I am sexy! This is how I feel in almost all photo shoots. And this one is no exception.
Lana chose black. A magician's top hat on her golden curls, a corset with stockings in the form of over the knee boots with suspenders and a voluminous fringe cape created the image of a fatal beauty. Watching Lana's candid posing, it was clear how she gets high from herself. Even some of her gestures threw me into a blush of embarrassment.
The scene of the exchange of delicious chocolates in exchange for life turned out with a clear erotic context. Our solo performances logically ended with a striptease. Because even witches are sexy as hell when they get into character on Halloween Eve!
P.S. Of course, we ate all the sweets. Although Lana bought them as a gift for her American friends (she was going to go to America). But don't worry, the same sweets were bought for her departure and in larger quantities 🙂
Text — Iren Adler
---