A naked woman admiring herself in the mirror is a classic of the "Boudoir photography with nude elements" genre. What did you envision? A beautiful woman posing in a bedroom on silk sheets in an openwork peignoir? It's banal!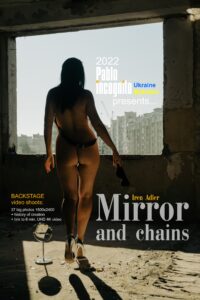 I won't write about Pablo's special love for abandoned houses. You can read about this in the descriptions for photosets in the "Ruins" section in the "Portfolio".
But not trivial – this is a naked woman, dressed in a man's harness, in mirrored shoes with high heels, with a black sleep mask on her face, posing with a mirror in the huge hall of an abandoned building.
What idea did the photographer want to convey to his viewers? I'm sure the answer options have already flashed in your brain!
I will describe to you two options:
Iren: "No matter how hard a woman tries to see herself as real, she will always be hindered by circumstances (a sleep mask is a fashion for appearance) and the environment (a dilapidated room is other people's opinions). To know yourself and love, you do not need to look at yourself in the mirror, it is better to look into the secret of your innermost desires. Believe me, what you see – you will like it!
Pablo: "It's just beautiful when a naked slender woman in only silver shoes poses on the street … The air temperature, by the way, was about +11 degrees Celsius! But it looked just amazing 🙂 And the mirror is the personification of a part of the female essence. It sees and knows more about her than she does!"
Text — Iren Adler
P.S. If you want to replenish the options, write comments, even the most original and daring!
---
See also:
Video Backstage "Mirror and chains. Video." (6 minutes of tempting UHD–4K video)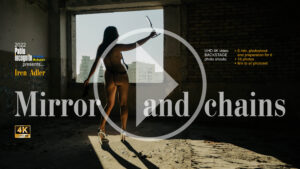 ---