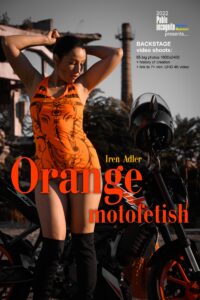 A naked selfie with a bike on the outskirts of the city is an intriguing subject of a photo session with a striptease.
Plot idea (in a nutshell):
The biker stopped at a deserted site of a dilapidated industrial complex (ruins and abandoned places are the maestro's favorite locations).
Leaving his metal horse, the guy went about his business (let's say, look around the neighborhood).
A girl walked by and filmed herself (in fact, she saw a lonely black and orange stylish motorcycle from afar).
After making sure that the bike is unattended, she decided to take a selfie (to be honest, she was looking for a suitable location for a crazy video, and here she was so lucky!)
She was so carried away by posing that she undressed for the camera, she didn't even notice that the owner of the bike was watching her from behind the bushes (or maybe she undressed just for this viewer or after all for her video?)…
Now slowly and carefully look at each photo again.
Do they fit the plot that Pablo has in mind?
Did his muse truly embody the photographer's intention?
Write in the comments…
We are very interested!
---