We found the railway junction quite by accident.

Having seen this colorful and completely deserted location, we decided to take a few pictures in the nude style – on the rails, against the background of semaphores, near the railway cars, on the platform between the railway cars …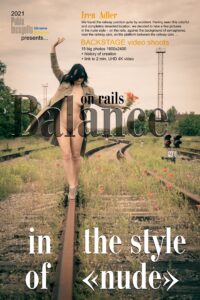 Balance is the most important thing in all aspects of our life. And keeping balance in high heels, standing on narrow rails, is generally an indispensable skill in nude photo shoots 🙂 I will not hide — it is difficult, but possible and very effective!
Pablo loves to photograph my passages/ walks/ defile. He really likes the way I move. We even began to shoot VIDEO: passages/ walks/ defile, as separate interesting and dynamic stories.
In some videos, I arrange highlights in crowded places (I secretly open the floors of my dress), in uncrowded places I perform striptease (frankly and elegantly, until they are completely naked).
There are videos that I personally like especially: a shocking walk completely naked against the backdrop of the Vorontsov colonnade in Odessa (although this can be performed either early in the morning, or where there are no people at all), a fun walk with the wind on the bridge (he unceremoniously lifts mine and so a short dress up to ears), walks along the highway with a suitcase (such a fellow traveler would certainly be willing to give a lift 🙂 , if they met — as our site visitors wrote in the comments to the photoset).
There was no special plot in the photoset "Balance on rails in the style of "Nude ", but I remembered the feeling of how I kept the balance while moving along the rails! A bouquet of wild flowers helped me in this :). The season of poppies has begun, after all — everyone rushed to the fields urgently — to be photographed in the genres of Nude, Glamor or Pin-up!
P.S. Here are a few more links to my passages/ walks/ defile:
Admire and be inspired by romance!
P.S. Write comments, thank you very much for it!
---
Muse, costume designer: Iren Adler
Producer, idea, director, location, photo, video, video editing, photo processing: Pablo Incognito