Almost a striptease in a remote part of the Victory Park in Nikolaev, on an old metal staircase where passers-by often go!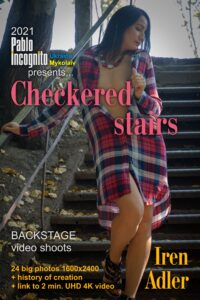 As usual, after catching a couple of minutes (I'm not joking, look in the additional materials, the photoset really lasted only 2 minutes!), when there was not a soul around, we decided to film this story.
Everything is simple and uncomplicated.
The muse and the maestro went for a walk in the park. Pablo, as a creative person, could not pass by the old metal stairs. It seemed to him textured and the light fell wonderfully on it. And Irene, a real muse, always ready to shoot, did not wear panties for a walk 🙂
That's what came out of it!
See photos and videos.
And do not forget to write comments, we are very pleased to read them 🙂
P.S. On the same day, we shot a couple more scenes in this unusual outfit:
Checkered columns
Checkered Ruins
Check them out too! There is also a video for them – high quality (UHD 4K) and maximum seductiveness 😉 . I'm sure this one will raise your level of emotions! Enjoy!
---
P.S.S. See also:
Video backstage "Checkered steps. Video." (2 minutes of seductive 4k UHD video)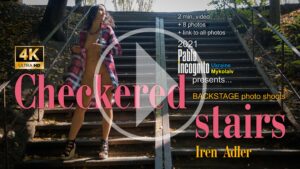 ---