You danced… in the moonlight. Of the lantern.
And I caught … any moment. Not in vain.
You danced… in the same shoes. From silver.
Your clothes… were a shadow. And that's just a sconce.

2022.02.19, © Pablo Incognito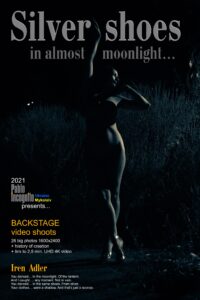 Throughout the summer, we planned a night nude against the backdrop of luminous shop windows …
But, as usual, the summer flew by surprisingly quickly. September has already arrived. And with it the evening chill. It became clear that it was impossible to delay, the end of the season had already come …
The day before, having rushed through pre-selected locations with shop windows and luminous art objects of our city (to make sure that the light from the shop windows is enough for night shooting), we set a day, or rather, a night of shooting.
We usually shoot in "photo days" – from early morning to late evening. This time we got a real "photo night". We took the first shot of this evening at 22:30 on September 16, and the last shot at 01:06 on September 17 at the location of this photoshoot.
During the photo night we filmed 9 scenes in different locations. Since shooting at night is a very difficult event, several unexpected and even funny situations happened to us.
Starting with the fact that one of the selected showcases is usually brightly shining, and on this night of shooting, for some reason, half of the lamps were not lit. At another location at night there are no passers-by at all, but this evening there were quite a lot of them, and we had to wait for them to leave. And near one large and beautiful shop window, we generally met the police, since we were already returning, and I was wrapped in a knitted cardigan, and only my "combat makeup", high-heeled shoes and a camera in Pablo's hands betrayed us that we were going from photography. We collided with the patrol on a dark staircase and one policeman shone a flashlight on the steps for me so that I would not fall. Having missed them, we were very glad that we finished our shooting on time 🙂
We shot this photo shoot near our house. Pablo, seeing a bright lantern at the end of the street, said: "Night, street, lantern … You simply have to undress! This is a classic of the genre – the play of light and shadow!" Well, how could I refuse him?
Usually such nude photo shoots are done in a studio, carefully exposing the studio lights. But Pablo is not looking for easy ways! The only source of light is a street lamp and the imagination already draws the details of the figure when you look at photographs …
And how do you like this "lunar" processing of night nude photos? Comment! We are glad to read your opinion…
P.S. In the summer of 2020, we already filmed Nude at night under this lantern. Interested? Click on the link – photoset "Nude dancing in the light of a lantern"
P.S. Write comments, thank you very much for it!
---
Muse, costume designer: Iren Adler
Producer, idea, director, location, photo, video, video editing, photo processing: Pablo Incognito