On this day (September 19, 2021, Sunday), waking up in the morning and seeing the bright sun, I thought how I would like to go to the sea now, to close, so to speak, the beach season. We, southerners, can afford to sunbathe in September, and in a particularly warm autumn, even in October …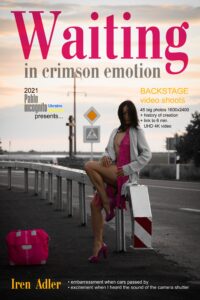 Pablo seemed to have heard my thoughts, and, entering the room, said: "Get ready, we're going to the beach to sunbathe!". An hour later we were already driving along the highway, but we did not go to Yuzhny, as usual in the last couple of years, but a little closer, to Ochakov. And, as it turned out later, they did not lose at all :).
We were greeted by a deserted beach and warm sea. We drove almost to the nudist beach itself and went down to the water. There were no people and we settled down near the so-called "city" beach. Well, what can I say, we had a great rest! Sunbathed, I even swam. We took a lot of new photos and videos. I was a mermaid with a blue tail, ran after a flock of seagulls, posed for a catalog shoot of collectible scarves on a marine theme. Someday Pablo will have free time, he will sort, prepare and publish these photos and videos on his author's website! And I'm sure it will happen, you just need to be patient and wait …
Even in the morning, when we were driving to the sea, we noticed this pretty intersection with a stop and decided that on the way back we would definitely shoot a photo at sunset. Arriving at the place, we found that right at the bus stop (where, according to the traffic rules, private transport cannot be parked) there is a car. The passengers were clearly waiting for someone. And we waited for them to leave. And finally they left and we were left alone at the bus stop! And the intersection is also at our disposal! I put on an outfit prepared in advance and entered the frame …
The idea of ​​the plot is simple: a girl is waiting for a bus, she is bored and, according to the laws of the genre, she decided to wander a little, and then "play pranks", because next to her is a photographer who wants to take this beauty in photos and videos. But we need to play naughty wisely! We do not want the driver in a passing car, seeing a naked girl on the side of the road, to be distracted and cause an accident. I had to wait for a convenient moment when there was not a soul on the track. But while cars flew by, I, out of boredom or for fun, arranged light quick flashes at a time when the drivers could not see me.
And now the track is empty! I have 1-2 minutes for a photo session, no more. I took off my walking and comfortable gray cape, which saved me many times – it kept me warm when I was freezing and hid when passers-by appeared nearby. Remaining in only one openwork crimson vest with a long fringe (I love this color, Pablo Incognito's portfolio contains several "crimson" scenes, click on the tag "crimson"), I paraded to the photographer and we filmed this photoset. The backstage video turned out to be very interesting too!
Here are the "crimson" emotions I experienced during this short photo adventure:
embarrassment when cars passed by;
excitement when I heard the sound of the camera shutter;
interest when imagining the result of this photo session;
immense pleasure when I realized that my Pablo admires me!
P.S. Write comments, thank you very much for it!
---
Muse, costume designer: Iren Adler
Producer, idea, director, location, photo, video, video editing, photo processing: Pablo Incognito