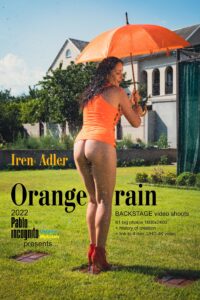 Nude photo shoots in the rain are a show for the most sophisticated connoisseurs of erotic content. Wet fabric, fitting the female body, emphasizes all the charms of its owner.
To shoot some juicy shots in the rain, you had to either catch him while constantly monitoring the weather forecast, or make it rain yourself. We chose the second option. And, as usual, they combined the useful with the pleasant.
My friend and muse of Pablo Incognito — Lana Liana invited us to her house for a barbecue. Since this year we will not be able to go to the sea (2022, Ukraine, all beaches are closed — the whole world knows why), we gladly accepted the invitation to eat juicy steaks, swim in the pool and, of course, take pictures.
On that hot summer day, we shot a lot of interesting photos and videos — paired and individual. All photos and videos combine very vivid emotions — happiness and bliss. On that day, we almost forgot that there was a war going on in our country, we lived "here and now", trying to enjoy every moment of our life and communication with each other!
The forecast was for rain that day. The probability is as much as 62%! Even gray clouds came running, but the wind immediately dispersed them. So we took a garden hose and made our rain. For this plot, I prepared a very bright orange look: an umbrella–cane, a T–shirt with an original print, high-heeled shoes and a glass ring.
Lana stood on a stepladder and poured ice water over me. Because of the heat, I did not immediately feel that the water was cold, but then, when I got completely wet, I felt that the water was ice cold. Then I thought: "It's good that this is not a real cold rain, but just a garden shower. We can terminate it at any time."
The combination of the scorching sun and crystal raindrops in the photo created an incredibly seductive picture, right? 😉
P.S. Even though there is no way to go to our favorite nude beach this year, I have a perfect tan. You noticed? Spoiler: I used the solarium for the first time in my life 🙂 Thanks to the inventor who invented it!
Yours, Iren Adler
---
P.S.S. See also: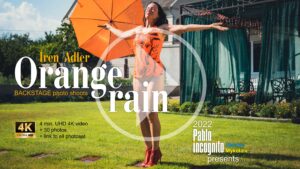 ---
Muse, costume designer: Iren Adler
Producer, idea, director, location, photo, video, video editing, photo processing: Pablo Incognito