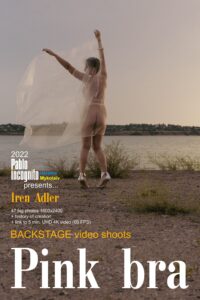 Women's erotic lingerie is designed to make men go crazy.

Lacy, satin, transparent…

Black, white, red…

Seeing his beloved woman in lingerie, a man realizes that this is a prelude…
I don't really have a lot of underwear in my large wardrobe of stage costumes. This is because we shoot our stories on the street, where it is impossible to walk in panties and bras, even in a bodysuit is difficult — I will definitely attract the attention of passers–by. It is easier to be photographed in dresses, and raincoats are even better. I can easily make highlights without standing out from the crowd.
We shot this story in our favorite place — on the river bank with a lighthouse in the background. The place is deserted. Here you can safely walk almost naked.
Pablo wanted to shoot a light and transparent image, in harmony with the pink sunset. We arrived at the wrong location. While Pablo chose the camera angle, I changed clothes. We discussed the image earlier, but there was no time to try on, so Pablo saw the outfit already on the "stage" 🙂
A chic fur bodice in the color of pink marshmallow, transparent mother-of-pearl organza, original sandals made of mirrored leather and a bracelet with silver rhinestones — and the image of an airy temptress fairy is ready!
Entering the frame, I traditionally arranged a striptease, it's impossible to do without it in nude photography 🙂 , at the end, remaining in the "Eva costume" (this is my most favorite and comfortable outfit), I sent a kiss to my audience, left the frame…
P.S. In addition to the photo, we, of course, shot a video backstage. It is always interesting to look behind the scenes of a nude photo shoot. What do you think?
Yours, Iren Adler
---
Looking at her through the lens, I just wanted to go up to her right now and hug her tightly … well, you understand why… 😉
Your Pablo Incognito
---
P.S.S. See also: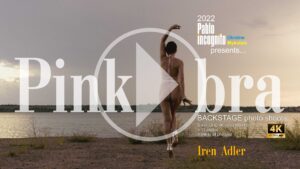 ---
Muse, costume designer: Iren Adler
Producer, idea, director, location, photo, video, video editing, photo processing: Pablo Incognito