Photo sessions in "special" weather (strong wind, pouring rain, scorching sun) are especially emotional!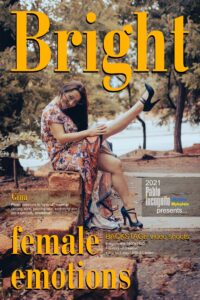 This photoset is the debut of Gina, the muse of Pablo Incognito.
The day before, she came to Pablo's office and inquired about the conditions of the photo session. Pablo asked her if she would agree that he publish the best photos of her in his portfolio. She answered — "Yes!". And he offered her to shoot as a TFP (if you wonder what it is, click the link).
We decided to go to Odessa in four: Pablo Incognito, me, Lana Liana and Gina. Why Odessa? Because it is rich in spectacular locations: crowded streets and uncrowded alleys, architectural monuments and garden statues, large parks and small squares, charismatic abandoned houses and, of course, a nudist beach!
The date was set — August 7, 2021. This time of year is usually very hot here. But, as it turned out, not on that day… We got into the car and drove off. Since it was cloudy in the morning, we decided that we would go for the rain. I grabbed my most chic purple umbrella, matched the dress, shoes and jewelry.
When we were leaving the city, a video with a terrible hail on the Nikolaev–Odessa highway began to appear in the Facebook feed. We wondered what was really happening until we ourselves drove into continuous bad weather. The roadside was white because of the thick layer of hail. There are whole lakes in the fields! To be honest, it got a little creepy. I even made a short video for the story. Here it is!
Having posted it on my Facebook feed, I began to receive urgent advice to turn around and go home 🙂 . But we were in the mood for an unforgettable photo adventure and continued on our way… and it was right!
On the way, we shot several photos and videos with an umbrella right on the track. A couple of stills of these videos can be viewed in Lana Linana's photoset "Pranks on Pasteur Street" (click the link and they will appear).
Odessa greeted us with a strong, but very warm wind, which dispersed the clouds, behind which the sun peeped out. We even managed to sunbathe and swim in the warm sea at the end of the day!
Our first stop was at Peresyp. A small terraced square with a huge gray wall with chic graffiti. Gina prepared herself responsibly for the photo trip. She had a wardrobe of 8 outfits with her!
For this photoset, she wore a bright dress with a fluffy skirt and stiletto heels. She let her long gorgeous hair down and was immediately transformed. Her eyes sparkled 🙂
I watched her. At first she was shy. All the time she asked how to become, which side to turn. But Pablo never commands his muses. He only praises them and repeats: "Do what you want! Do as you feel comfortable! And I will catch the best angle, the best shot, the brightest emotion! ". Gina slowly began to relax. And then we saw her real — funny, playful laughter!
Unfortunately, she is not yet ripe for a photo shoot in the "Nude" genre. But she was very good at posing in the "Glamor" genre.
Some women don't need to be naked to show her sexuality. A head of luxurious long hair and a passionate look is enough 🙂
Text — Iren Adler.
---