Oh, Odessa!.. How many unique locations do you have for photo sessions in the genres: Nude, Glamor, Pin–up and Burlesque. In the portfolio of Pablo Incognito there are many scenes filmed in this wonderful port city…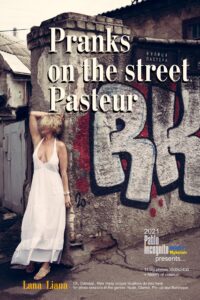 Click on the tag "Odessa" and enjoy watching …
This is not Lana's debut photo shoot. The first time she tried to shoot "Nude" last year, in the summer of 2020. Then, on June 20, we arrived in Odessa to shoot many new photosets and sunbathe on the nudist beach of the sanatorium near Chkalov's name. We invited Lana to our photo trip "for the company" (she is my old friend).
On that day in 2020, filming "Very Tender. Green" (interestingly, the cover of this photoset is at the moment our most discussed photo in the Facebook group -"Painting, graphics, art photo"), suggested Lana to try… and she agreed!
For her, a photo session with nude elements (she was not completely naked, she was wearing a fluffy transparent skirt and a shawl embroidered with beads) — became a way out of the comfort zone — scary, embarrassing, but very exciting (this is how Lana described her experiences).
As time passed, Lana admitted that this experience of photographing half–naked and visiting a nude beach opened herself to her. "I realized that I am very attractive! It turns out I can be artistic and erotic" —Lana shared with me.
Current photoset on st. Pasteur we filmed a year later — on August 7, 2021. We went to Odessa for rain. We really wanted to shoot more scenes with the umbrella. On the way on the Nikolaev–Odessa highway, we took a couple of photo and video sets. But Odessa met us without rain and warm weather 🙂

Freeze frame of video # 1. With an umbrella in the rain Route Nikolaev–Odessa.

Freeze frame of video # 2. With an umbrella in the rain Route Nikolaev–Odessa.
St. Pasteur is our first stop. Driving in the Peresyp area, we noticed gorgeous graffiti on a large gray wall. I love graffiti! They are able to decorate the most unpresentable places (abandoned buildings, fences, walls) and become a bright location for a photo session of any genre.
Our noisy company (me, Pablo, Lana and Gina) parked around the corner from our first location. While Gina and I were choosing outfits, Lana had already changed into a white cotton summer dress. Pablo saw another nice graffiti and asked Lana to take a few shots while Gina and I were still deciding what to wear…
At this moment, apparently Pablo wanted to shoot a portrait of a sensual and slightly playful woman, which, in principle, he did. These are the pranks that happen on Pasteur Street in Odessa!
Text — Iren Adler.
---