You are lucky if your beloved woman sometimes performs a striptease for you! This intimate show has the power to strengthen your love and rekindle your passion…
Almost all photo sessions of Pablo Incognito end with a striptease:
first, the muse in an elegant, extravagant or provocative outfit poses at some non-standard location (any location, usually except for a photo studio)
then she gracefully removes one thing after another (performs a striptease, slowly gets naked)
and in the final of the clothes she is wearing only high-heeled shoes (stilettos are Pablo's fetish, he considers them appropriate everywhere)
besides shoes, there are still jewelry ("true friends of girls": beads, bracelets, earrings – this is already my fetish 🙂 )
Initially, my image for this photoset consisted of a pink fur bra, silver shoes and a bracelet with rhinestones. But Pablo decided that this was not enough for a beautiful striptease that excites the male imagination, and tied a piece of white organza around my hips. I would not say that the fabric hid my charms, but added tenderness and airiness to my image.
I did a striptease only for my Pablo. But since he is a creator (professional deformation of a nude photographer), he could not resist the temptation to show the result of his work (photos and videos) to the public. Enjoy!
P.S. Dear girls, spoil your men, sometimes give them an unforgettable performance in which you are the main character! Shine, and then you will never have rivals! I know what I am saying 😉
Yours, Iren Adler
---
P.S.S. See also:
Photoset «Pink bra» (47 large photos)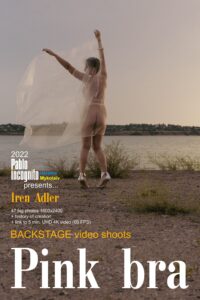 ---
Muse, costume designer: Iren Adler
Producer, idea, director, location, photo, video, video editing, photo processing: Pablo Incognito