The full video of the backstage of this photoset, in which the theme "Military" is presented in the "Nude" genre, I'm sure you will like it…
"Naked military" is a very delicate topic. This is especially true when a real war has been going on in our Ukraine for six months now.
A beautiful naked woman in military ammunition with a weapon in her hands should not look ridiculous. She should not be simpering and grimacing, pouting her lips and making eyes, arching her back like a lustful cat (the entire Internet is filled with such photos, but this all only trivializes this topic that is painful for the whole world).
Her body, like her soul, is naked. In the hands of a machine gun, a pistol and an army knife on his belt. She is armed, but she is defenseless. Her face is serious. Militancy is sexy. The confidence in the look and movements is mesmerizing.
P.S. The plot of the video is inspiring. This is the path from war to peace. This is the desire to be free, to live and breathe fully. As I did when we filmed this story…
Yours, Iren Adler
---
P.S.S. See also:
Photoset «Protectress 2022» (37 large photos)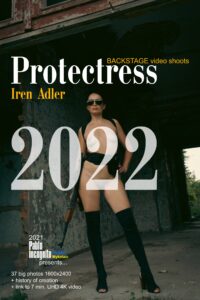 ---