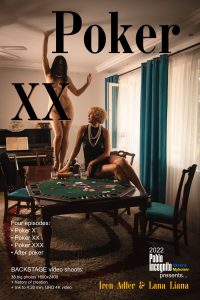 It turns out that you can get drunk not only from an exquisite alcoholic drink, but also from a photo session that smoothly flows from the Glamor (charm) to Nude (nudity) genre. The main thing is to have a good company (a close friend) and a great mood (playful and seductive).
Let me remind you that on the evening of shooting, Lana and I posed for Pablo for 4 episodes:
I love pair shooting with Pablo's other muses. On the site, you can sort photos and videos in which two girls participate, independently, by the tag "2 muses".
Dancing on the table is a very exciting activity, let me tell you. They capture you completely, and you no longer notice how you are spinning in a whirlwind of primitive instincts, one of which is "be fruitful and multiply". And to attract a partner, you need to do something spectacular, for example, perform an exquisite striptease.
For me, undressing, for example, at a photo shoot or a nudist beach is not a problem. I perceive my naked body as Eve's natural outfit. Why be ashamed of him? But, of course, I do not allow myself to flaunt it where it is inappropriate — I respect the personal space and customs of everyone.
So, once on the table, I kind of reincarnated as a stripper. Lana actively played along with me. She, smiling slyly, unceremoniously stroked my thighs, made greasy jokes mixed with exquisite compliments …
We got so carried away that we completely forgot about Pablo and Koolya. We could only guess what thoughts and feelings overcame their male heads and hearts. But no matter what happened, Pablo did not break away from the camera lens, and Koolya regularly followed the video recording and the "correct" reflector, as Pablo says, so that the golden color fell on my figure.
And Lana and I simply did not notice anything around. We focused all our attention on each other. And here I am, already completely naked, in only shoes, dancing on the table! It is not clear where the hat came from, but it fit perfectly into the image of a gangster girl who decided to have fun like that boldly.
To be continued.
Text — Iren Adler
---