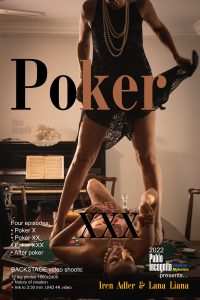 Be honest, have you at least once in your life allowed yourself to fulfill your most secret desires or fantasies?
I've allowed myself. During the photo session, Lana and I got so carried away that I decided to fulfill my fantasy — to dance completely naked on the table. I had nothing to fear, the table was strong and reliable, but my head was spinning, either from the height, or from the fact that I allowed myself this trick.
We are adult women, confident in our irresistibility. And we are old friends. We trust each other with secrets. Therefore, it was easy for us to allow ourselves a lot of pranks in this paired photo shoot.
I happily tossed around the chips, imagining that I had won the jackpot at the casino and now I could overspend. Lana invited me to lie down on the table and showered me with cards. And apparently it got her so excited that she also climbed onto the table and stood over me.
At that moment, I, who had been actively filming for many years in the Nude genre, was embarrassed… But then I thought — after all, what we are doing now is just a game and it is absolutely safe. And we're having fun…
This episode is the most revealing of the series. What can we dissemble, it is the most frank of all the photo sessions that we shot. That's why Pablo added XXX to the title to warn the viewer that this episode is very "hot"!
Let me remind you that that evening Lana and I "posed" for Pablo for as many as 4 episodes:
After the photo session, having calmed down a bit, we laughed for a long time about how brave we are in our fantasies. Such photo adventures help to get emotional relief.
I would call this adventure — phototherapy in the Nude genre!
Text — Iren Adler
---