It so happened that the photo set was published exactly two years after the shooting — on August 7! It was filmed in 21, and first appeared on the website in 2023. Already during this terrible war…

This day started with heavy cold rain and hail on the way, and ended with a tempting swim and hot photo sessions in Odesa!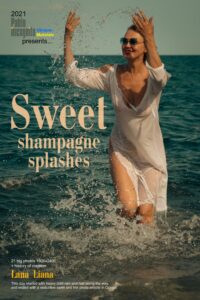 It was a photo day full of emotions and adventures. Three muses (Iren Adler, Lana Liana and Gina) and maestro Pablo Incognito went on a journey to shoot many new sensual photosets.
For Gina, this was her debut. Check out her first photo test — "Bright female emotions", filmed in the genre of "Glamour" (non-nude seduction). How we drove to Odessa and how the sides of the road were in snowdrifts in the middle of summer, you can not only read in the description, but also watch the video of this apocalypse (I'm talking about hail).
But back to the sweet splashes of champagne…
Lana is unique in her role! Americans (when she lived in the USA) mistook her for a Frenchwoman (because of her accent or because of her love of sparkling drink). She took a bottle of semi–sweet on the trip, with which we, of course, also took pictures.
In these photos, Lana, with bulbs (not with butterflies!) of champagne in her stomach, bathed, splashed and had fun with pleasure. And Pablo caught real and vivid female emotions. And all because a woman is beautiful only when she is happy and he, the maestro, knows about it. And in order to get interesting photos, it is not at all necessary to pose, you can just be happy!
Text — Iren Adler
---