I met this beautiful woman on the night steps,
and I couldn't resist her beauty until I felt dizzy!
Corset and heels suit her very well,
there are no such costumes in cabaret 😉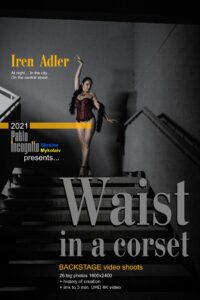 Stockings with corsets! – you will surely answer. And you will be right!
In a corset, the waist is thinner, the hips are more magnificent. The figure is more attractive. Forms are even more appetizing. What do you need to highlight them? That's right, contrast! Cold gray steps are ideal.
That photo evening we shot a lot of scenes near shop windows, street lamps and signs. They all turned out magical and exciting…
P.S. Write comments, thank you very much for it!
---
Muse, costume designer: Iren Adler
Producer, idea, director, location, photo, video, video editing, photo processing: Pablo Incognito