How do you want peace and quiet sometimes. And take a walk on a warm autumn morning And have some tea. And do not burden yourself with anything superfluous. Especially unnecessary clothing. Cloak and sandals for a naked body. And a cup.

And an old gazebo, where small music and dance evenings are sometimes held. Or just taking pictures…
Please start this music track Klangfall (Piano Version) • Jupe Beving • Henosis (Deluxe) • 2019 and see the photoset.
---
Our "non-stop" photo day continues. This photoset was included in the online photo exhibition "One Day Photo", which takes place on the author's website of Pablo Incognito from March 29 to April 11, 2021 (2 weeks, one or two photosets per day).
We have already photographed about a dozen photosets and got to our favorite rotunda (by tag "rotunda" you can see other photosets in this place, click on the link!). Atmospheric place. It is not even spoiled by the neighborhood of the construction site (the long-term renovation of the Chess Club).
It turned out fresh and magical in the morning. White on white. White columns, white raincoat, white sandals and a beautiful woman with a perfect nudist tan and a stylish bikini haircut. Wow!
I am not only a nude photographer, working in my "delicate style", which I called "Modern Ukrainian social erotica", I am also a director-producer of all my photo plots, photo plays and performances.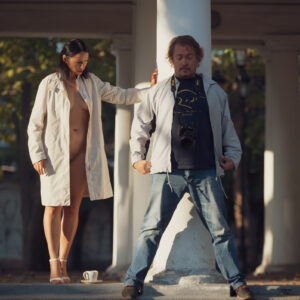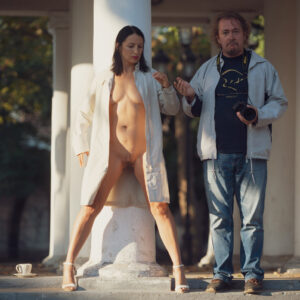 Here I am telling my favorite muse, Iren Adler, what kind of picture I want to see in my lens. I show how the model should stand and reassure that it is not dangerous at all, because with my 120 kg I can become stable and "beautiful" 🙂 !
By the way, photo shoots in the "Nude" genre very often take place at locations that are not entirely suitable, and sometimes even dangerous. For example, when photographing the photoset "Etude with a grid. Chkalovsky.", A tragedy almost happened (details in the photoset).
This photo story is interesting in the morning natural light, which sometimes, reflecting from the floor, illuminated the model as if from the inside. The tanned body appears golden against the cold white of the columns. Possibly one of the most romantic color combinations I've captured!
Nice cups, especially with saucers, are a fetish for Iren. She loves them and tries to use them in the plot, if appropriate. She has several cups from fans. She gratefully accepts these surprises 🙂 (did you get the hint?).
P.S. Interesting information about this photo day:
photo day "non-stop" lasted from 6 am to 10 pm
filmed by two photographers (me and my friend, a sports photographer)
filmed about 25 photos
"shot" about 10 thousand frames
all photosets can be found on your own (if you are a real connoisseur-erotomaniac :)) in my gallery, follow the date in the description Date and time of the start of shooting: 2019.09.07.