Usually, Pablo's nude photo sessions last from 3 to 7 minutes, but there are also minute sets — super speed champions!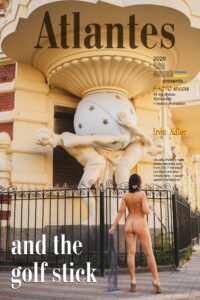 "Atlantes" is also a one–minute photoset, one of the few:
Due to the specifics of the genre, Pablo takes pictures of his muses very quickly. Naked girls calmly walking down the street are able to attract attention and shock even a prepared audience :).
Pablo has long wanted to photograph a "nudesie" near one of the famous and popular tourist attractions in Odessa — the Profitable House of the Falz-Fein family, known as the "House with Atlanteans", which is considered one of the four most beautiful and unique buildings in Odessa.
So that's it. We are in Odessa! Morning, of course, is no earlier, but on the street where the Atlanteans hold the celestial sphere on their backs, there is practically no one! Pablo looked around, made sure that there was not a soul around and commanded: "We have one take and one minute for everything! Go!"
The idea was this: a practically naked woman came to half-naked strong men. Why she took a golf club with her — no one knows, not even herself — she is a woman! Maybe it's an accessory, or maybe to fight off annoying fans? Choose the option that you personally like, or come up with your own answer… 😉
And now, she stands naked. Looks closely at the men. An elegant lady in a black dress walks by and, from under dark glasses, casts a sizzling look of surprise and indignation at her…
I needed to play the role of this brave nude. When we "work" on the streets, where people may appear at any moment, I usually wear a cape or a raincoat to cover myself in time, but not this time… There was only a net out of my clothes, and it barely resembled clothes!
As planned, we shot one take, and yes, in one minute. And still managed to "light up". A passerby was walking across the street.. Seeing me in negligee, he stopped, goggled his eyes, probably did not believe his happiness 😉 But, nevertheless, he dared to approach (after the photoset) and with a colorful Odessa accent asked: "In which movie will this be shown?"
We were flattered to hear such words! This means that our one-minute plot was drawn to a movie fragment 🙂 ! Pablo replied that the filming was for a private collection. The man got upset and went on about his business…
The image of a strict lady in black, of course, was played by my friend. On this warm autumn day she made us a pleasant company at photosets! Then there was the sea, a nudist beach and the way home 🙂
See also the video backstage to this photoset, you will like:
Thanks for the comments (see under the photoset)!
---