Two girls in the photo… How wonderful it is!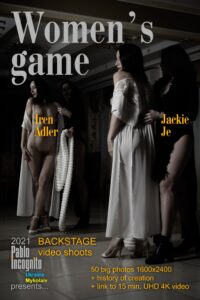 A naked girl photo session with another naked girl may surprise, interest, or even outrage you. But it will definitely not leave you indifferent!
The shooting location is the hall of solemn events in the cafe "Kaif".
Shooting time is February 2021. Late evening. Winter. It's cold in the hall…
The original processing of nude photographs allows you to present the plot in a completely unexpected light. From the vintage look of photographs, your fantasies can fly away to the romantic period of the 30s, 40s, 50s of the twentieth century …
It is no less interesting to watch the video backstage of this rather long photo shoot, which lasted as much as 18 minutes! Usually we manage to shoot a story in 5, and sometimes in 1 minute 🙂
Text — Iren Adler
P.S. If you are a gourmet, you will be interested in watching a video backstage of this photo shoot.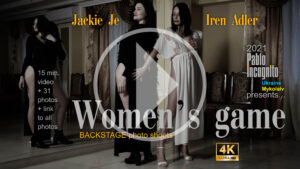 ---
Muses: Iren Adler and Jackie Je
Costume designer: Iren Adler
Producer, idea, director, location, video, photo, video editing, photo editing: Pablo Incognito