It is doubly interesting to look at a photo or video in which there are two nude models.
How far can women's fantasies go? What about women's games? What about women's feelings?
I am sure that every woman at least once in her life has fantasized about a nude photo shoot with another woman! We are women, such refined and sensual beings. Only a woman can know and understand what another woman wants at the moment…
Location — cafe, hall for special events
We filmed this photoset and video backstage in the Kaif cafe, the owner of which is our good friend. He repeatedly offered us his cafe as a location for photo shoots in delicate genres (Glamour, Nude, Pin–up, Burlesque). And since Pablo is a fan of non–standard locations, we took advantage of his offer and visited this cafe, and even more than once.
In fact, we shot a whole series of photosets in the cafe:
early morning in the flower yard
late at night on the patio
on a day off in the ceremonial hall
Pablo has many more ideas and stories in this cafe waiting to be published. But there are some that you can already watch:
Steam nude photo shoot
I love filming with Pablo's other muses! It is very interesting to watch your partners: how they react to what is happening, whether they know how to interact, how they are embarrassed or, on the contrary, are so addicted that they start acting weird 🙂
All the muses with whom I starred are smart and beautiful. I felt very comfortable working with them. Sometimes our playing excited me and touched the thin strings of my soul. I hope they were comfortable with me too!
To see paired photosets, click on the "2 Muses" tag and enjoy!
Jackie Je's first experience
For Jackie Je, this was Pablo Incognito's first shooting experience. Usually, for a photo acquaintance, he delicately offers his muse a short photo session. With Jackie, it turned out to be a whole photo evening at once. In a few hours we shot a lot of scenes, mostly couples, but there were also singles. True, everything took place in one single location.
For photosets with Jackie go to the tag "Jackie Je". She is incredible!
Jackie turned out to be a very contact girl. She moved freely, but at the same time listened to Pablo's requests. Since Pablo allows her models to be themselves in the frame, she had fun all evening. In general, we all had fun, our photo session in the Kaif cafe went so easily and naturally.
Video backstage nude photo session
Shooting backstage photo shoots has become the rule rather than the exception for Pablo Incognito. Firstly, this is an interesting video material, which is especially appreciated by lovers of beautiful aesthetic erotica. Secondly, it is useful for the model not only to see how she turns out in the photo, but also how she moves in the frame. Thirdly, from photos and videos you can create completely unique and diverse entertainment content. Basically, everyone wins!
Check out the trailer and extras. Smile and buy the full version of the video! We will be very pleased 🙂 And we will shoot many more different and exciting stories!
Text — Iren Adler
P.S. See also: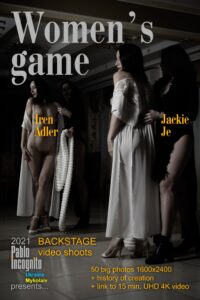 ---
Muses: Iren Adler and Jackie Je
Costume designer: Iren Adler
Producer, idea, director, location, video, photo, video editing, photo editing: Pablo Incognito