This question, if they didn't ask us out loud, was probably discussed among themselves, or "thought to oneself" by people who visited our exhibitions, who "came" to this site, or those who know us personally. The bravest, of course, asked. And we answered honestly. Naturally, both Pablo and I have slightly different answers, but we are from different planets. I am from Venus, it is from Mars. But the essence and purpose are one.
And here is my version…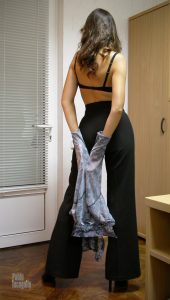 Photoshoots in the nude genre allow me to admire myself and my husband. To increase self-esteem, a photo shoot in the genres of "Glamor", "Pin-up" and, of course, "Nude" is a great activity. I see how he likes me, and he constantly tells me about it. So the first gestalt is closed: a man loves with eyes, a woman with ears!
Photoshoots in the Nude genre help me keep my body in good shape. They replace me with yoga, gym and fitness combined. I do not strive for "cubes" on the stomach, for the "iron" press and for biceps in the arms, but the general state of the body really interests me. This is what photo shoots help me with.
Since Pablo's favorite location is the street, during walks in the air I walk, run, squat, bend my back, raise my arms, pull my tummy up, and still do a lot of diverse and natural exercises. Plus, a gentle dose of ultraviolet radiation is a bonus. I like my naked body, and I consider it my best outfit… So the second gestalt is closed: I learned to accept myself!
When there are no photo shoots for a long time, my body begins to "break". This is some kind of dependence on pleasant impressions and sensations. Both of us like the process itself, including the feeling of being caught, but we are perfectly masked — not a single passer–by was hurt 😉
Many couples have fun in their own way. This helps not to get bored in marriage and not load up in a household routine. Our entertainment is photography in a delicate genre (I like to call the genre "nude"). For 18 years, with regular intervals, we have been having fun like this!
In 2019, we decided to show the results of some of our photo shoots. We became interested in how people would react to our photos, and Pablo held the first personal photo exhibition of our works – "Provocation". And, lo and behold, the audience reacted very positively! We saw real emotions on their faces. Some did not hold back and scattered in compliments and praises. And we realized that we were doing something vibrant and emotional, giving positive and vivid emotions. And here is the third gestalt: we do what we love, which brings positive emotions not only to us!
We need feedback! Therefore, do not be shy, write comments under the sets, you can even under all the plots, you can even have a few comments under each, do not hold back your emotions. After all, emotions are an important part of our life!
Photo taken in 2002.