Usually in the nude photo sessions of Pablo Incognito, his muses use a lot of extravagant outfits and accessories. This is the basis and quite noticeable difference of his creative works by which the public recognizes him!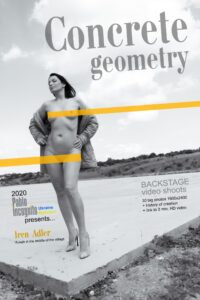 But this photoshoot was made by accident. And there was no time to think over the image. A huge, high-quality concrete–filled platform attracted Pablo's attention with its ideal geometry.
He said to me: "Put on your shoes and walk in it. Yes, only in a jacket. Yes, naked. I'll just take a couple of shots."
And he did it… More than 200 shots in 7 minutes. And three years later, I saw these photos in his archive, I decided to prepare and publish them on the site… And that's what happened!
Text — Iren Adler
P.S. Write comments, thank you very much for it!
---