Romantic mood with a cup of coffee…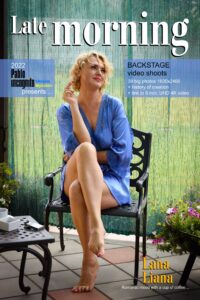 What does a woman dream about when she wakes up?
Summer. Early morning. Lana went out to the veranda to drink a cup of aromatic coffee. Thoughts of last night brought her back to fond memories. She remembered what a "mean girl" she was.
She smoked. And she wanted to fool around again…
A short dressing gown favorably emphasizes the slenderness and muskyness of her legs. The plunging neckline demonstrates the natural breasts of a woman who is confident in her attractiveness and irresistibility.
"We live one life!" — with this motto, Lana turns on her favorite track on her phone and arranges an exquisite striptease for her beloved …
P.S. But she looks like Marilyn Monroe! Externally. Habits. And how elegantly she poses for the photographer… Do you agree with me?
Text — Iren Adler.
---