A naked girl in high heels, balancing, stands on a concrete slab, and only a transparent umbrella is her support at the moment…
There is a lot of romance in these pictures. The reason for this is the beautiful morning light falling on her slender figure. But, in fact, she personifies Ukraine, drawn into the war by the Russian Federation. Unexpected, isn't it? And I'll explain!
Not her body, but her soul is naked. The whole world looks at her with wide eyes. Some admire her. Others condemn. Someone wants to help and protect her… She tries her best to stay on her feet. Because she has a purpose! The muse has a goal — a beautiful and sensual photoset with her participation. Ukraine has faith in victory and a happy future.
The analogy is very strange, you may say… But this is my analogy! This is exactly what I felt during the photo session. It was these emotions that arose at the location of the ruins (these are not the consequences of the war, these ruins have been here for a long time) and the meeting of the soldiers along the way (every time we see them, we know that our city is under their heroic protection).
After all, we are a front–line city.
We are strong.
And we are strange.
We are from Mykolaiv!
Text — Iren Adler
---
P.S.S. See also:
Video Backstage "White stilettos. Video." (4 minutes of tempting UHD–4K video)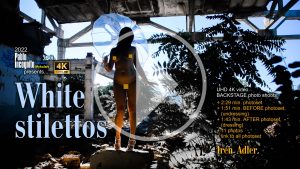 ---